Thomas K. M. Cudjoe, MD, MPH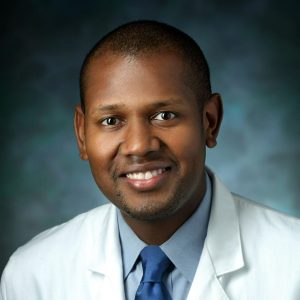 Robert and Jane Meyerhoff Endowed Assistant Professor, Division of Geriatric Medicine and Gerontology
Core Faculty – Center on Aging and Health
Caryl & George Bernstein Human Aging Project Scholar – Center for Innovative Medicine
Dr. Cudjoe is board certified internal medicine and geriatric medicine physician.  In addition, he is a Major in the United States Army Reserves Medical Corps, a graduate of the Robert Wood Johnson Foundation Culture of Health Leaders. Dr. Cudjoe is Co-Director of Medicine for the Greater Good and a Commissioner on the Baltimore City Commission on Aging and Retirement Education. He also serves on the Scientific Advisory Board for the Foundation for Social Connection and the Administration for Community Living National Coordinating Center: Connecting Older Adults and People with Disabilities Clearinghouse, Scientific Advisory Group.  Dr. Cudjoe is actively engaged in the medical care of homebound older adults via the Johns Hopkins Home Based Medicine program. He is also a recipient of the National Institute on Aging Grants for Early Medical/Surgical Specialists' Transition to Aging Research and a Johns Hopkins University KL2 Mentored Career Development Award.  In addition, he has funding from the AARP Foundation and is the Co-Lead for the NIH funded Johns Hopkins University Artificial Intelligence and Technology Collaboratory for Aging Research Stakeholder Core.
Dr. Cudjoe is focused on understanding how social factors influence the health of older adults and developing strategies to improve the health trajectory of older adults. His research focuses on the influence of social context on the health of low-income older adults. He is leveraging mixed methods and human centered design to develop strategies to address social isolation among older adults living in subsidized housing.
Dr. Cudjoe received his undergraduate degree (summa cum laude) in Cellular and Molecular Biology at Hampton University and was active in the Honors College and Army ROTC program (Distinguished Military Graduate-Top 20% of Graduates in Nation). He graduated from Robert Wood Johnson Medical School and earned his master's degree in public health in health policy at Harvard School of Public Health. He completed his internal medicine residency Internal Medicine at Howard University Hospital in Washington DC and clinical and research fellowship in the Division of Geriatric Medicine and Gerontology at the Johns Hopkins School of Medicine.