2023.03.08 | EMPOWERING INNOVATION IN AI/TECH + AGING
Read our recap of the 2023 a2 National Symposium here and save the date for next year's symposium, which will be held March 19-20, 2024, on the University of Pennsylvania campus.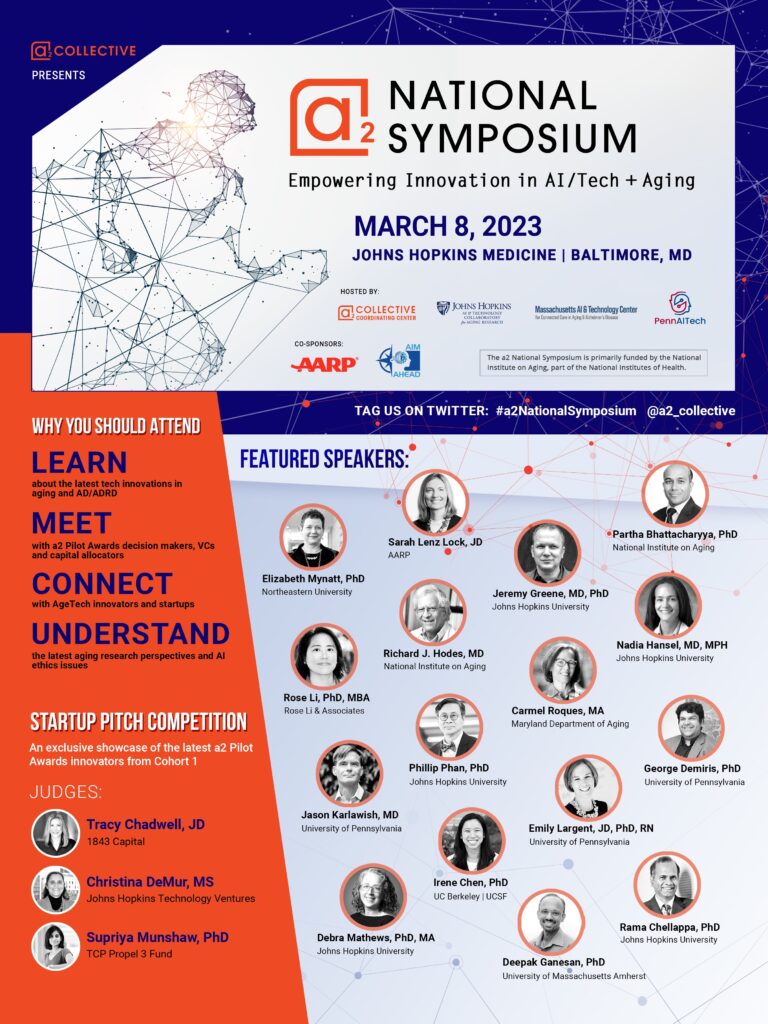 The a2 Collective represents the National Institute on Aging (NIA) Artificial Intelligence and Technology Collaboratories (AITC) for Aging Research program, which is dedicated to helping Americans live longer, healthier lives through the application of artificial intelligence (AI) and emerging technologies. The a2 Collective comprises three AITCs centered at Johns Hopkins University, the University of Massachusetts Amherst, and the University of Pennsylvania and the a2 Collective Coordinating Center managed by Rose Li & Associates, Inc.
The a2 Collective is organizing a national symposium to be held on March 8, 2023, in Baltimore, MD, on the campus of the Johns Hopkins University School of Medicine. The symposium aims to:
Showcase the world-class research, clinical, and training ecosystem of the a2 Collective as a platform for partnering with innovators to accelerate research and development in order to improve care and health outcomes for older Americans, including persons with Alzheimer's disease and related dementias, and their caregivers
Share the latest NIA-funded AI and technology innovations for healthy aging
Connect innovators with resource providers and strategic partners from corporations, venture capital, and stakeholder organizations
Create opportunities for knowledge exchange among a2 Collective partners and supporters to share the latest geroscience and gerontology research, AI technologies, and emerging issues and trends
Johns Hopkins University
Turner Auditorium
720 Rutland Avenue
Baltimore, Maryland 21205
Registration and Travel Support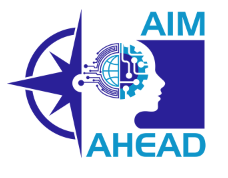 If you are a member of a population that is underrepresented in the development of AI/ML models, or in the field of AI/ML, you may be eligible for a2 National Symposium complimentary registration or travel support provided by symposium sponsor AIM-AHEAD. For the purposes of this support, eligible individuals include U.S. citizens, permanent residents, and non-citizen U.S. nationals who identify as members of racial and ethnic groups that have been shown by the National Science Foundation to be underrepresented in health-related sciences on a national basis and individuals with disabilities (consistent with underrepresented population categories A and B as defined in NIA NOT-OD-20-031: Notice of NIH's Interest in Diversity).
Travel support is subject to a $500 maximum per person, provided through reimbursement, and requires submission of receipts documenting travel expenses. Complimentary registration and travel support must be requested and confirmed in advance and will be distributed to eligible individuals on a first-come, first-served basis until available funds have been exhausted.
Please email Sofia Jones (sofia.jones@roseliassociates.com) if you wish to request this support.