Nicole Rosendale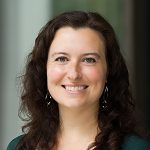 Dr. Nicole Rosendale is an Assistant Professor of Neurology at the University of California San Francisco (UCSF). She completed undergraduate medical training at New York University School of Medicine followed by residency and fellowship training at UCSF. She joined the faculty in the Neurohospitalist Division at UCSF in 2017 and primarily attends on the teaching service at San Francisco General Hospital, the city's safety-net hospital and only Level 1 trauma center. Her clinical expertise encompasses the acute manifestations of neurologic disease, including cerebrovascular disease, neuroinfectious disease, and the neurologic manifestations of systemic illness.
In addition to her clinical duties, Dr. Rosendale is dedicated to advancing health equity in neurology through research and education, particularly in regard to LGBTQ+ health. Her work has highlighted the importance of LGBTQ+ health in neurology, educated around caring for transgender individuals in the acute setting and exposed discrepancies between self-reported competence in caring for LGBTQ+ individuals and LGBTQ+ health knowledge in U.S. neurologists. Most recently, Dr. Rosendale published a scoping review of the current science of LGBTQ+ health in neurology, highlighting important gaps in need of further research. Dr. Rosendale is currently investigating other neurodisparities in LGBTQ+ individuals, including in stroke, multiple sclerosis, and migraine, with the goal of informing culturally appropriate interventions to improve brain health in this community. She has also spoken nationally about the importance of LGBTQ+ health in neurology.
Dr. Rosendale serves as the Chair of the American Academy of Neurology LGBTQI Section and is a member of the American Academy of Neurology Inclusion, Diversity, Equity, Anti-Racism and Social Justice (IDEAS) Joint Coordinating Council.