Karen Johnston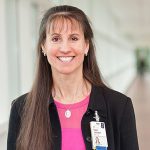 Karen C. Johnston, MD, MSc is the Harrison Distinguished Professor of Neurology and Associate Vice President for Clinical and Translational Research at the University of Virginia (UVA).  She is the immediate past chair of the UVA Department of Neurology, a position that she held from 2007 – 2018.  She is currently the Director of the integrated Translational Health Research Institute of Virginia (iTHRIV), the cross state collaborative NIH-NCATS funded Clinical & Translational Science (CTSA) program.
Dr. Johnston's personal research has focused on treatment and outcomes in acute ischemic stroke and she is the principal investigator on the recently completed, NIH-funded, multi-center Phase III Stroke Hyperglycemia Insulin Network Effort (SHINE) Trial.  She currently serves on the NIH-NINDS Advisory Council and Chairs the NINDS Health Disparities Steering Committee.  She is an FDA panel member for Neuro devices.  She has participated in and/or led numerous clinical research education programs and career development programs locally and nationally over the past 15 years.  She is passionate about training and supporting the career development for the next generation of researchers.  She is also committed to diversity and inclusion across all programs with a special emphasis on training and leadership programs.
She attended medical school at the University of Rochester School of Medicine and completed neurology residency at the University of Rochester Strong Memorial Hospital.  She did her vascular neurology fellowship at the University of Virginia and obtained a Master's degree in outcomes research and clinical investigation there as well.  She is board certified in General Neurology and Vascular Neurology and was the founding director of the UVA Comprehensive Stroke Center.
Dr. Johnston has 2 children, Jeremy and Tyler who are both full time students in college.  She enjoys numerous athletic endeavors with her children and they are all committed UVA sports fans.